Lorrie and I were up before dawn this morning for a trip to Moffett Field in Mountain View, CA where we had the thrill of getting a close look at the world's most advanced solar-powered aircraft and meeting the crew. Created by Solar Impulse, a Swiss company, the aircraft, identified by its Swiss registration HB-SIA, is a huge and beautiful feat of engineering, a proof-of-concept vehicle that operates completely without fuel. It features narrow, supple wings covered with nearly 12,000 solar panels that can power the aircraft by day, simultaneously charging batteries that allow the aircraft to operate at night, four small electric engines with only 10hp each, and a small, high cockpit built for one. The aircraft's wings are as long as that of a 747, but the entire aircraft weighs only as much as an average automobile!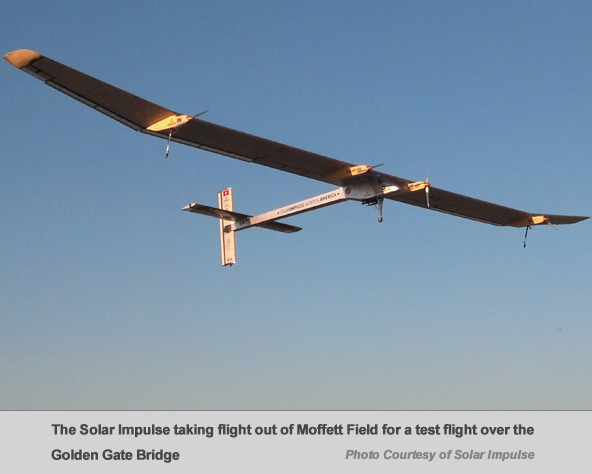 Our hosts, Swiss pilots Andre Borschberg and Bertrand Piccard, exuded enthusiasm and justifiable pride in their aircraft, which is on a series of test flights around the United States, starting with a dramatic sunset pass over the Golden Gate Bridge. You can see the beautiful sight on the CBS Evening News this Wednesday.
Watching HB-SIA take off was like nothing I'd ever seen before in aviation. As soon as the electric engines start, the plane begins to roll forward and then, at a speed of around 25 knots (less than 30mph) it begins a graceful ascent that looks more like levitation than a traditional takeoff. It needs less than 500 feet of runway to become airborne. And aside from the noise of the small electric motors and the propellers slicing through air, the plane is silent. There's no roar of jet engines and no smell of fuel. The plane has a maximum altitude of 29,000 feet, but at a very slow speed. From a distance, it appears to be floating on gossamer wings. You can see the Solar Impulse HB-SIA in flight and track its flight path here:http://www.solarimpulse.com/en/multimedia/blog/#6924.
While the Solar Impulse aircraft is a very long way from commercial application, HB-SIA serves as a valuable reminder to all of us not to be trapped in the status quo and to continue to look for new ways to find a more sustainable future for our planet. Who knows? Maybe someday we'll have hybrid jetliners, with solar panels able to power certain systems on the aircraft. When I started my career in the 1960s, the notion of a solar-powered plane able to fly for more than a few minutes would have been science fiction. As Lorrie and I saw today, it is now a beautiful reality. Bertrand Piccard and Andre Borschberg remind us that we must never stop seeking better ways of powering our lives. I look forward to watching their progress.