Lorrie and I were delighted to attend last week's tribute to flying legend Bob Hoover at Paramount Studios in Hollywood and to join other leaders in the aviation community to inspire young people to take up the career of flying. Hoover, 92, was a war hero, test pilot and airshow performer and continues to be an ambassador for the profession so many of us love. In addition to his skill as an aviator, Bob is a masterful communicator: he's a mesmerizing storyteller and makes aviation seem like a wild adventure.
I felt honored to be in the same room with people I have admired for decades, such as former astronauts Jim Lovell and Gene Cernan, retired Air Force General Lloyd "Fig" Newton and others who have done so much to advance aviation. In addition to honoring Bob, we met with high school students chosen to be part of the tribute. This was a wonderful idea because we will depend on future generations to take aviation safety and performance to the next level. Professional piloting is so important because we literally hold people's lives in our hands. We need to attract the best and the brightest young people who are equally as passionate about this profession.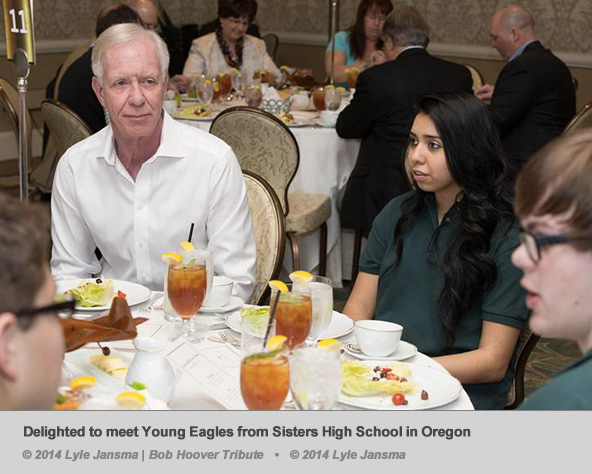 I wanted these young people to know what being a pilot has meant for me. Flying helped me find purpose and meaning in my life. At a time when so much of our lives revolves around the virtual, flying offers real adventure and real life experiences. Learning to fly gives a person a sense of mastery of the aircraft itself. Skills must be demonstrated continuously. And just rising a few thousand feet above the ground gives not only a different perspective on the world but also a real sense of freedom. I never tire of the beauty of the sky and the earth, whether it's day or night.
All of us who love flying have to think of ways to pass on institutional knowledge and the kind of judgment that comes only with experience. I am glad to do my part –and congratulate Bob for his contributions.